Dentists are medical experts who identify and cure teeth and gum related issues. If you have plans to enter this field and are looking for salary related information, then we would advise you to read this article.
Salary Trend of Dentists in the U.S
The salary statistics presented below have been taken from the US Bureau of Labor Statistics. These figures show the salary trend of Dentists, General for the past few years.
| Year | Annual Mean Salary |
| --- | --- |
| 2016 | $173,860 |
| 2017 | $174,110 |
| 2018 | $175,840 |
Source: US Bureau of Labor Statistics
In 2016, the annual mean salary of dentists working is the U.S was $173,860. This figure jumped to $174,110 in 2017, and further increased to $175,840 in 2018. Thus, we can conclude that the annual mean salary increased consistently from 2016 to 2018.
Dentist Salary Comparison among Different U.S States
The bar chart below depicts the differences in the annual mean salary of Dentists, General in the US. As per 2018 data, the top paying US states included Delaware, Alaska, Rhode Island, Minnesota and New Hampshire.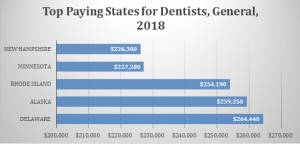 Source: US Bureau of Labor Statistics
The bar-chart shows that dentists working in Delaware earned the highest pay among all states in the U.S in 2018. We can also see that New Hampshire was the fifth highest paying state for this particular occupation.
Job Outlook Data for Dentists
It is expected that the employment opportunities for dentists will increase by 7% from 2018 to 2028. As the baby boomers are aging, they require more dental work and cosmetic procedures, hence the demand for dentists is predicted to rise in this decade. Thus, it might be a good time to start your career in this field as it promises decent financial returns.