As of 2018, there were 199,486 dentists working in the US, as per data from the American Dental Association. Nearly 32.3% of these were female, while only one in five were practicing in an ADA-recognized specialty. There were 61 dentists working per 100,000 US population, though ratios may vary from state to state in the same years.
If you are interested in joining this prestigious workforce, the following guide on a career as a dentist in the US will be of great use to you. It provides information on the career of a dentist, employment trends, states with the best opportunities and how to become a dentist in the US.
Types of Dentists
The field of dentistry is quite vast, with various options for specializations available. The following is a list of some of the main specialty areas for dentists, extracted from the US Bureau of Labor Statistics:
Dental Anesthesiologists
Dental Public Health Specialists
Endodontists
Oral and Maxillofacial Radiologists
Oral and Maxillofacial Surgeons
Oral Pathologists
Orthodontists
Pediatric Dentists
Periodontists
Dentist Career Statistics for the US
The US Bureau of Labor Statistics provides the following quick statistics for dentists in the US:
| 2018 Mean Salary | $175,840 |
| --- | --- |
| Job Outlook, 2018-28 | 7% |
| Number of Jobs, 2018 | 155,000 |
| Employment Change, 2018-28 | 11,600 |
Source: US Bureau of Labor Statistics
The annual mean wage for dentists in the US in 2017 was $174,110, while it was $173,860 in 2016. The increasing salary shows a positive trend in the earning for dentist in the US. The amount of salary earned also varied according to the chosen specialty of practice. For instance, the annual mean wage for Oral and Maxillofacial Surgeons was a high $242,370, while Orthodontists made an annual mean income of $225,760 and Prosthodontists made $191,400.
Dentist Career Outlook in the US
The job growth outlook for dentists in the US is 7%, which is faster than the average for all occupations. This demand will be mainly driven by the growing and aging population in the country. A lot of people from the aging baby-boom population will need more and more dental work in the coming years. In addition to this, there will be an increased demand for more complicated dental procedures, such as dental bridges and implants. Cosmetic dental surgeries are also becoming more common than before.
Job prospects for dentists are expected to be especially good for people who are willing to find employment in underserved areas. The employment opportunities are likely to vary according to state as well. The following chart provides a look at the top 5 states for general dentists in terms of employment opportunities.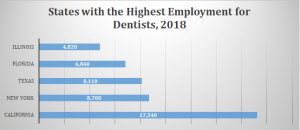 Source: US Bureau of Labor Statistics
California has more than twice the number of opportunities for dentists than New York, which comes in at the second spot on the above chart. California also has the fifth highest concentration of jobs and location quotients in this occupation.